REINS therapy horses carry precious cargo and we take great care in selecting, evaluating and training them. Our Program Manager first evaluates all horses being considered to join the our herd. The horse's conformation, movement, and behavior are assessed, as well as their ground manners, ability under saddle, and suitability for riders with disabilities. If the horse is then accepted, he will come to REINS for a 90-day trial period. If the trial period is a success, donation papers are signed and REINS accepts the horse with much gratitude. When a horse becomes ready for retirement the original owner has the right of first refusal. If they waive that right, REINS carefully selects a good home for our retiring Equine.
If you are interested in sponsoring a horse please click the Sponsor Me buttons below to pay with a credit/debit card, email [email protected] or call us today at 760-731-9168 to set up alternate payment or recurring payment.
Thank you!
Hoagie
American Quarter Horse, foaled in 2009
Joined REINS: 2020
Sponsored by Glenn & Renee Hoglen
Hoagie is known for his loving personality and eagerness to please his riders. He was donated to REINS by his owner, who is active duty military, and needed a loving home to place Hoagie in. Hoagie wins hearts with his sweet disposition, his smooth jog, steady head and wonderful ground manners. Hoagie's background consists of trail and western riding and his extensive training and steady personality will provide our students with the confidence to take their riding to the next level. Whether it's playing in the arena or being ridden in a lesson, Hoagie is always ready for an affectionate snuggle and finds ways to make our riders smile! We look forward to many years with our Hoagie Bear in the therapy herd!
Chuy
Arabian, foaled in 2004
Joined REINS: 2018
Sponsored by Stephen Provin
Chuy is a special little horse that has a level head and steady gait.  Although he used to be a very fast little barrel racer, he is happy to stay at a gentle jog for his new riders. He has wonderful manners and is an easy lead for our volunteers. Chuy is the perfect horse to teach our young riders how to ride independently, and learn to trust.  His "up-for-anything" attitude helps to keep his lessons interesting and engaging. We look forward to many years with Mr. Chuy!
Flash
Thoroughbred, foaled 2000
Joined REINS: 2017
Sponsored by Donnajean Provin
Flash is just the opposite of his name, he is slow and steady.  Taking his job seriously he really tries hard to please but following each cue given. With his steady walk and gentle jog, he gives his riders a consistent ride, offering the independence needed for his riders to carry them to the next level while making them feel safe and relaxed. Flash has the kind face of a young child with the wise soul of grandpa, he is going to make a great therapy horse for many years to come.
Finn
Norwegian Fjord, foaled May 2, 2002
Joined REINS: 2014
Sponsored by Tracy Miller
Finn is one of our several registered Norwegian Fjord Horses at REINS.  His playful attitude and endless energy adds a spicy new dynamic to the gelding pasture.  He is built stout, and durable, perfect for a therapy horse!  Always eager to move, Finn keeps his riders alert and engaged during their lessons to ensure they get the most out of their ride.  From balls to bubbles this horse is ready to play!! On his free time, keeping the pasture alive and active is his main mission. He is always ready for another horse to join in his games!
Konah
Norwegian Fjord and Percheron cross, foaled in 2008
Joined REINS: July 2012
Sponsored by Sarah Eckhardt and
Jodie & Mike Benstead

Konah is our slow and steady big baby Huey.  He just loves to play with whatever toys are out in the pasture, from the water hose to the feed buckets.  Although he is mister playful in the pasture, Konah is the solid steady horse that can carry our biggest or newest riders.  He is the master of slow and slower, but will occasionally step on the gas if the rider encourages him enough.  When he first came to REINS, Konah had barely any training, but over time and with a bit of work he has become a wonderful horse! Unfortunately, our beloved boy has recently been diagnosed with an equine dental disease. In order to keep him happy and healthy he will be on supplements for the rest of his life that cost approximately $1,000/year.
Cisco
Arabian and American Paint Horse cross, foaled in 2001
Joined REINS: 2016
Sponsored by Gold Club of California Women's Golf Club
Cisco Kid is just that, a kid!  He is one of the most playful little guys that REINS has ever seen.  His colorful personality matches his flashy colorful coat, and his sassy little tail matches his sassy little attitude.  Even though he is pretty energetic, when a little tyke gets on his back he drops his head and baby sits his kiddos.  We know this fun horse is going to spend many years showing our riders around our therapy ring.  "Let's GO Cisco!" is his favorite phrase to hear!
BamBam
Haflinger, foaled April 27th, 2015
Joined REINS: 2021
Sponsored by Jere McFarland
Bam Bam came to us all the way from Colorado! He's a super goofy boy that loves playing with anything and everything. His curios nature can sometimes get him in to trouble but he never lets anything faze him and doesn't get bothered when he gets in over his head. This curiosity mixed with his loving personality make him a perfect fit for our "up for anything" riders. Bam Bam looks like a model and has the hip movement to match which offers a lot of "hula hoop" type movement to his riders and helps strengthen their core muscles. Bam Bam brings a playfulness to our herd that is sure to keep everyone on their toes!
Big Poppy
Quarter Horse, foaled May 16th, 2006
Joined REINS: 2022
Sponsored by Darlene V. Shiley
Big Poppy spent his younger years chasing cows and competing in Western disciplines all over the country. He is a true been-there done-that kind of horse with experience in all of the western disciplines. Big Poppy is a super friendly guy who will walk up to just about anyone and ask for attention. Poppy has found a special place at REINS in the EAL and Veteran programs. He is incredibly friendly and loves to work with people in the unmounted work.  Although he is used to traveling around and working hard, Big Poppy is enjoying the simpler life we offer here at REINS.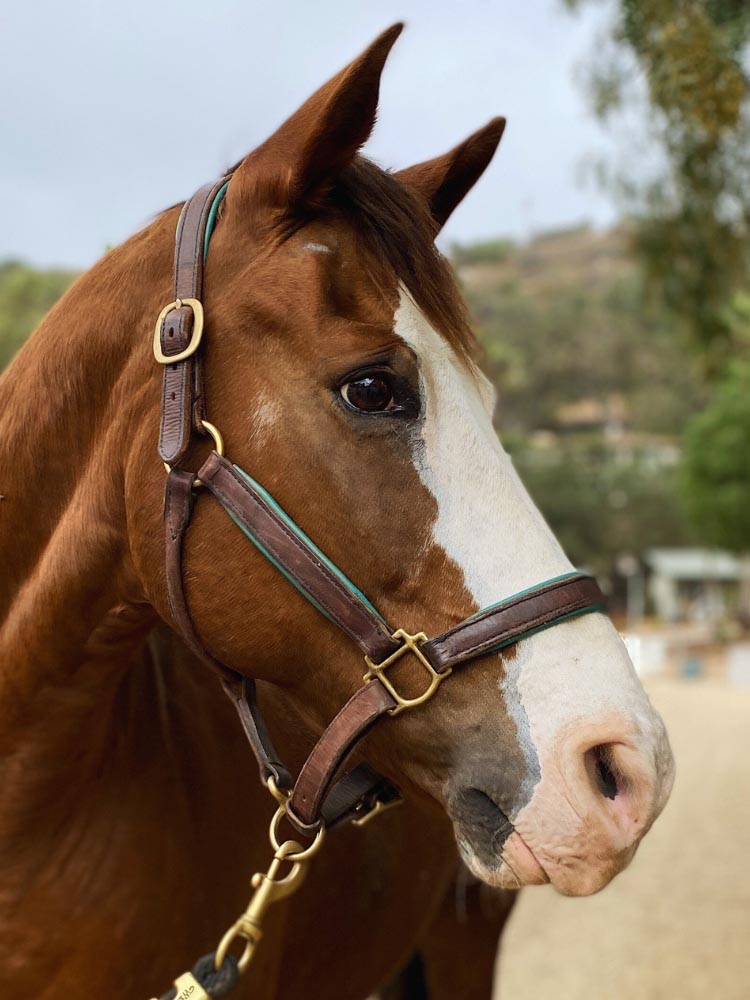 Lincoln
Quarter Horse, foaled August 30th, 2009
Joined REINS: 2022
Sponsored by The Hukill Family
Lincoln has done a little bit of everything in his life from being a pack horse in the mountains of California to playing polo and enjoying trail rides. With his big white face and bright eyes, it's just about impossible to pass by his stall without stopping to say hello. Lincoln loves attention and will happily greet you at the fence for love and treats.  His goofy in your pocket type personality draws a smile from everyone around and his patience is unmatched when it comes to teaching all the new riders.
Teddy
Thoroughbred and Draft Cross, foaled July 25th, 2001
Joined REINS: 2023
Sponsored by The Hernandez & Henry Families
Teddy
 joined the Reins herd in May of 2023. 
Teddy
 has quickly won the hearts of all the staff, parents and students. 
Teddy
 is a gentle giant who is always the first to greet you with a snuggle. 
Teddy
's extensive background in dressage provides our students with wonderful opportunities to learn and practice more advanced riding skills. His long stride and can-do attitude make him a barn favorite for everyone who works with him.
Gunner
American Paint horse, foaled in 2008
Sponsored in Honor of Alexander Liles
Gunner loves to socialize with people and can't get enough cuddle time in with his humans. When turned out, he would rather follow you around like a puppy dog than go off on his own. Nothing much fazes him and he is always happy to try something new, as long as he has a human by his side. Next time you're on the REINS property be sure to stop by his stall and give him a pat.
Mika
Draft Cross, foaled in 2008
Joined REINS: 2023
Mika is a tank of a girl who came to us with loads of experience doing kids camps and riding lessons. When in a lesson Mika is slow and steady, preferring to stay at an ambling walk rather than going fast. Nothing pleases her more than a stop in the shade for some scratches and cuddles. However, when turned out, Mika will kick up her heels and run with the best of them. She is a sturdy girl with lots of great things to teach her riders.
Contact us for more info about Mika and how to sponsor.
Luna
Fjord / Belgian Cross, foaled in 2012
Joined REINS: 2021
Sponsored by Jere McFarland
Luna is our big girl with a very curious personality. She doesn't think twice about going up to something new and checking it out. We love that she is affectionate with anyone who ventures close to her stall, and she won't hesitate to put her head right into your lap for a cuddle. This is Luna's first real horse career and she is excelling in it. She is a quick learner who aims to please and we are happy she has found a home here.  Luna is the type of therapy horse that can do it all and is a great addition to our equine herd.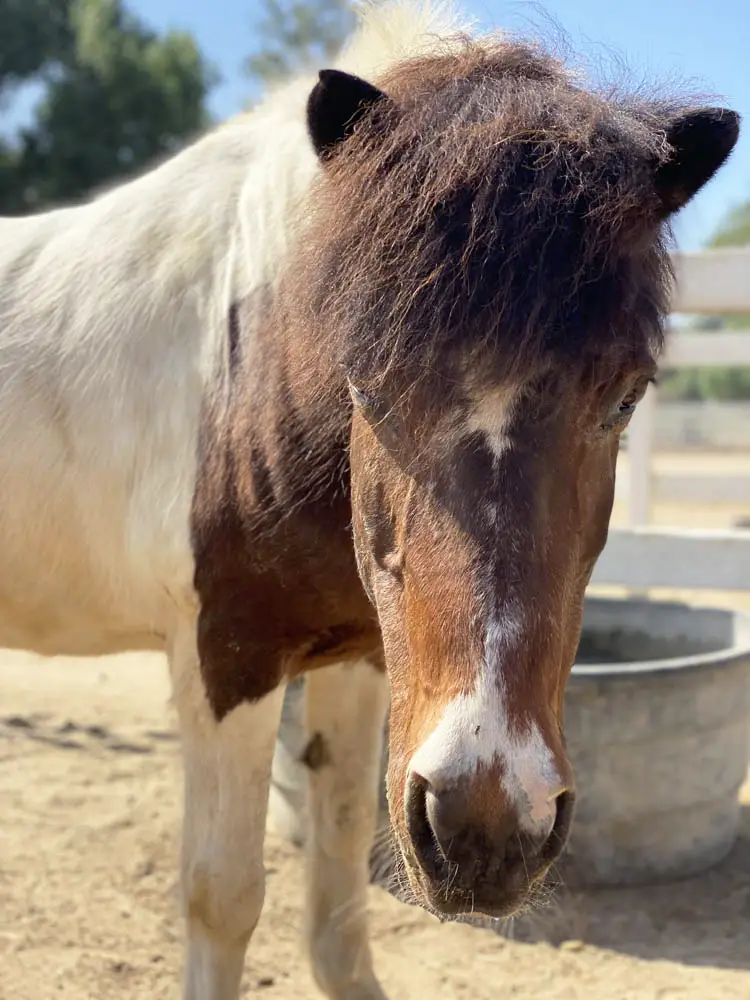 Cookie
Icelandic Pony, foaled in 2001
Joined REINS: 2019
Sponsored by Linda Pierce
Cookie is a cute little Icelandic pony that has fit right into our program neatly.  She rules the pasture with a quick turn of the eye, but keeps things mellow in her lessons. She offers a unique gait called the "tolt" that gives her riders an incredibly smooth, but fast ride.  Because some of our riders need core strengthening, she is a perfect fit as she offers a kind of "crunch or sit-up" movement that will target specifically that area of the rider's body. She is a rock star when it comes to using the tools, or accommodating a variety of different rider types.  She is just the type of Cookie we crave here at REINS!
Zippy
Miniature Horse, foaled in 2010
Joined REINS: 2022
Sponsored by Glenn & Renee Hoglen
She might be the smallest horse on the property, but she has one of the biggest personalities. Before coming to us, Zippy worked at a petting zoo doing pony rides and birthday parties. She loves doing her "Zippy Zoomies" when turned out in the pasture, but is equally as happy to stand for grooming with her un-mounted students. Zippy has quickly made her way into the hearts of everyone at REINS and we are so excited to share her with you.
Bonnie
Gypsy Vanner, foaled January 1, 2008
Joined REINS: 2017
Sponsored by Linda Pierce
We are so excited to have selected Bonnie after winning a GypsyGift contest made possible by Lexlin Ranch.  Bonnie was originally imported from the United Kingdom, to Lexlin Ranch in Rockwood, Tennessee.  After her time as a brood mare, Bonnie was elected to be part of the Gypsy Gift program.  REINS friends and family followers worked so hard to win the contest, and after a long 2 months of voting on Facebook, we chose Bonnie! She has traveled far to get here and seems to be settling in well. Gypsy Vanners are uniquely suited to be great therapy horses, and we know that she will be able to serve our students and our program for many years to come! Thank you for being part of the REINS team!
Sara
Norwegian Fjord, foaled May 28, 2003
Joined REINS:  2017
Sara is one of REINS' 8 Norwegian Fjords! She is actually a cousin of our oldest Fjords, Leif and Erica (now in greener pastures)! We know she will give us many, many years of good service as REINS is in her blood! She has a steady stride, and strong back, offering a wonderful seat to many of our little tikes.  Although she isn't as robust as a few of our Fjords, Sara will definitely find her niche with our smaller students that like to ride backwards, sideways, and sleeping Indian (laying over the barrel of the horse on the rider's tummy). We love Sara, and look forward to having her for many years.
Contact us for more info about Sara and how to sponsor.
Clover
Icelandic and Welsh Mountain Pony cross, foaled in 2000
Joined REINS: 2013
Sponsored by Dr. Cate Coin
She has the personality of a feisty little puppy! While she is great for toting around our little tots, she is also very good with our kiddos learning to steer independently.  She keeps us all on our toes with her spunky demeanor, and vivacious attitude!
When we first started introducing Clover to all of our therapy tools, such as the basketball hoop, poles, and rings, she would just turn her head a look at us like she had seen it all before. Even when we introduced her to the herd, it was such a smooth transition that it seemed as though she already knew everybody. Clover is a wonderful addition to our program, and I am so glad that she has fit in so well.   She has so much to offer our little riders, and we are so blessed to have her here with us!
Tinkerbell
Miniature Horse, foaled in 2019
Joined REINS: 2023
Tinkerbell is the youngest and smallest horse at REINS. She was rescued from auction as a yearling and has quickly adapted to her job as a therapy mini at REINS. She enjoys taking van rides with our staff on outreach excursions and visiting people in our community who may not be able to make it to our facility.  
Cricket
Quarter Horse and Fjord Cross, foaled May 3rd, 2013
Joined REINS: 2023
Sponsored by Mackenzie and Michael Gordon
Bio coming soon!
Sasha
Welsh Pony, foaled in 2009
Joined REINS: 2021
Sponsored In Memory of Charley E Reeves "Wild & Free"
Sasha is a sweet little thing that hasn't had the easiest life. Her rough start to life has made her a bit standoffish, but if you take the time to build a relationship with her she will follow you wherever you go. She's much more trusting of little kids and will happily hang out with them all day. Sasha has found her stride in our un-mounted EAL, EAP, and veterans programs where she can take the time to truly bond with the participants on the ground.